BC12: 10-NIGHT BEST OF CHINA TOUR INCLUDING FLIGHTS FOR TWO (MEL/SYD)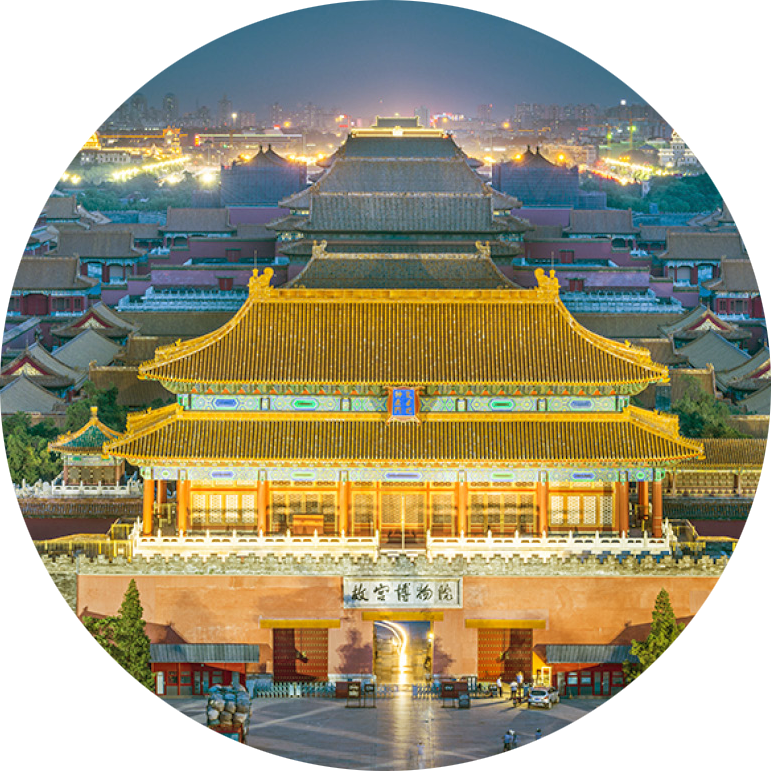 Duration: 16 Days (approx.)
Location: Beijing
Product code: BC12_03TAO_DC
ABOUT US
Expedition Exclusive is a tour wholesaler and destination management company which has a strong focus on China and Mongolia. This exclusive focus means we have up to date information and first-hand knowledge that offers authentic travel experience to our clients.
Address: Level 14, 380 St Kilda Road, Melbourne VIC 3004
Phone: 1300 738 196
Website: https://www.expeditionexclusive.com.au/
Email: info@expeditionexclusive.com.au
WHAT YOU GET

Return international flights from/to Melbourne/Sydney (economy class)

10-night twin share hotel accommodation

Intra-China transportation

Tours, transfers & admissions as per itinerary

Local English-speaking guides

Meals as indicated in the itinerary

(B=breakfast, L=lunch, D=dinner)

24-hour emergency support in China
JOURNEY HIGHLIGHTS
Welcome to China, known to the locals as the "Middle Kingdom" and home to some of the most impressive history, dazzling landscapes, and most mouthwatering food on the planet. You'll see it all in the ultimate luxury and comfort on this epic tour.
Be awestruck by the size and might of the Great Wall - China's iconic defensive structure that undulates majestically over the peaks and troughs of the gloriously picturesque Beijing hillside.
Discover paradise on Earth at Hangzhou's dreamy West Lake and explore the glorious 800 year-old Master of Nets Garden in Oriental Venice, Suzhou.
Eat, shop and enjoy expert tours in the wonderful city of Shanghai, where the diverse culture of China is exemplified by both its exotic history and dazzling skyline.
Visit Qingdao a city preserves some of its past while angling a dazzling modern face to the future
ACCOMMODATION
QINGDAO: Hui Quan Dynasty Hotel or similar

BEIJING: Chunhuiyuan Hot Springs Hotel or similar

SUZHOU:

Xiangxuehai Hotel or similar
WUXI: Grand Kingtown Hotel or similar

HANGZHOU:

Merchant Marco garden Hotel or similar

SHANGHAI:

Holiday Inn Shanghai Hongqiao West or similar
THE FINE PRINT
This package is valid for 1 person based on 2 people travelling together (twin share)
Flights depart Sydney/Melbourne are full services with 20kg checked luggage
Compulsory tipping (total 180 AUD/900 RMB per person is payable and non-refundable in case of cancellation at any time)
No child discounts, full price applies to all children travelling with parents; unaccompanied minors are not allowed
Based on two people sharing, single supplement of $580 per person applies
The high season surcharge AU$280 per person applies for travel on the following dates:
2019: Apr 10, 17; Jul 03, 10; Oct 09
ITINERARY
DAY 1: ARRIVING QINGDAO

Depending to your flight time, you will fly out from Australia on day one evening or day two morning to Qingdao, on arrival you'll be met by one of your friendly tour guides and transferred to your hotel.
DAY 2: QINGDAO | MEALS: BREAKFAST & LUNCH
Today you will explore the Qingdao city. Your first stop is Zhangqiao Pier – a symbol of Qingdao. It was built in 1891 as a naval pier, and now is a famous landmark in the Qingdao Bay. Then followed a trip to Signal Hill Park, where you can take a bird view of old town. Later you will have a walk through Eight Great Passes to admire the seashore scenery and unique western-style buildings. Visit Qingdao Shell Carving factory. End the day at Ying Kou Lu market, one of the most famous local markets in Qingdao. Here you can see how the locals do their daily shopping with variety of fresh fruits, vegetables, meat and most important you can find very fresh beer. Along with fresh seafood, it has become a popular hangout for the locals, and a great place for tourist to have a taste of Qingdao. Along the streets, there are many different styles of restaurants. So you can choose one of them and have a meal like a local.
DAY 3: QINGDAO – BEIJING | MEALS: BREAKFAST & LUNCH
This morning you will visit the Tsingtao Brewery Museum, where you can watch the exhibition of the complete process of making the beer and taste the freshly brewed beer. Then enjoy a walk along the coastline to the 2008 Olympics Sailing Center. Later today you will travel to Beijing.
DAY 4: BEIJING | MEALS: BREAKFAST
Today is a leisure day to see Beijing at your own pace. Get to know the city by drinking in the stunning sights and treating yourself to some delicious local fare!
Alternatively, you can join our suggested optional excursions.
OPTIONAL ACTIVITIES
# IMPERIAL BEIJING TOUR: Explore the world famous Tiananmen Square and Forbidden City, the former seat of the emperors throughout the Ming and Qing dynasties. It is a true architectural masterpiece and home to the National Palace Museum.
# MUSICAL PERFORMANCE: "The Golden Mask Dynasty" Show or "Kong Fu Legend" Show
DAY 5: GREAT WALL | MEALS: BREAKFAST & LUNCH
Today's highlight is an excursion to the majestic *Great Wall *(Juyongguan Section), one of the Seven Wonders of the World! Recognized by UNESCO, and get a chance to climb a portion of this 3,700 mile marvel. Visit one of the largest Jade Exhibitions in Asia enroute. Later in the day, it is your option to join our suggested excursions.
OPTIONAL ACTIVITIES
# HUTONG LIFE TOUR: On this tour you will explore the hutongs of Beijing on the backs of rickshaws, a traditional mode of transport in Beijing. These rapidly disappearing traditional neighbourhoods offer a glimpse into the Beijing of the past.
# PEKING DUCK BANQUET DINNER: Authentic Peking Duck Banquet served with all the traditional accompaniments.
DAY 6: BEIJING – SUZHOU | MEALS: BREAKFAST & LUNCH
This morning you will visit a Chinese Herbal Institute to learn about traditional Chinese medicine. You will then travel on the bullet train to Suzhou. When you arrive in Suzhou, our local representative will meet and greet you at the North Suzhou Railway Station. The local representative will transfer you to the hotel for rest.
DAY 7: SUZHOU – WUXI | MEALS: BREAKFAST & LUNCH
Suzhou, the city of paradise, is also known as the Oriental Venice for its exquisite canals, bridges, pagodas, and beautiful gardens. Suzhou is designated a UNEWSCO World Heritage Site. After breakfast, you will visit the Lingering Garden, a classic private garden with 500 years of history, and continue your journey to the Suzhou Silk Factory, the largest silk manufacturer in the country and discover the mysterious processing silk. After lunch, you can enjoy the optional excursion and explore the famous Grand Canal further. In the late afternoon, we will continue our journey to Wuxi, and visit the Nanchang Street before transferring to the hotel.
OPTIONAL ACTIVITIES
# GRAND CANAL CRUISE: After lunch, you can enjoy a cruise along the ancient canal from the city to the picturesque Grand Canal.
DAY 8: WUXI - HANGZHOU | MEALS: BREAKFAST
This morning, you will begin your day with a visit to the Brilliance of Lake Lihu, located at the Famous Lake Taihu, followed by a visit to a Fresh Water Pearl Farm. We will then continue our travel to Hangzhou, once was described by Marco Polo as "the most beautiful and magnificent city in the world"
This evening is at leisure. You will have the opportunity to appreciate the symbolic performance of Hangzhou as an optional activity.
OPTIONAL ACTIVITIES
# THE ROMANTIC SHOW OF SONGCHENG: this evening, you could join the symbolic performance of Hangzhou. It is being performed over 2,000 times, and entertained over 60 million audiences. It is the theatre performance that has been performed for most times and has the largest audience number, along with the O Show in Las Vegas, and the Moulin Rouge in Paris, the three are regarded as the Top Three Famous Shows in the world.
DAY 9: HANGZHOU - SHANGHAI | MEALS: BREAKFAST & DINNER
Hangzhou, also known as the "Paradise on Earth", has been immortalized by countless poets and artists. The West Lake Cultural Landscape has been listed as a UNESCO World Heritage site. This morning, you will visit the West Lake – it is known as the most beautiful lake in the country. During the visit, why not join the optional activity of boat riding on the West Lake, which is the most renowned feature of Hangzhou. After this, we will visit No. 1 Tea Plantation and taste the local well-known Dragon Well Tea. It is science proved that green tea is excellent for maintaining the well-beings, and today you will have the opportunity of learning the tea culture of the China's best green tea – Dragon Well Tea.
After lunch, we will drive to Shanghai. This evening, you will have the opportunity to get a glimpse of the dazzling and charming night view of Shanghai by joining the optional Huangpu River Cruise ride.
OPTIONAL ACTIVITIES
# BOAT RIDE ON THE WEST LAKE: During your visit to the beautiful West Lake, you can find out the most renowned feature of Hangzhou by joining the West Lake Boat Ride, which is noted for its scenic beauty blends naturally with many famous historical and cultural sites.
# HUANGPU RIVER NIGHT CRUISE: At night, you may enjoy the Huangpu River Night Cruise and get a glimpse of the dazzling and charming night view of Shanghai
DAY 10: SHANGHAI | MEALS: BREAKFAST & DINNER
After breakfast, we will travel to the Bund, a famous site in Shanghai that is lined by the colonial architecture of European design. This area is the best place to capture the Western influences of the old days, and now it is called the "Wall Street of the East".
The rest of the day is at free leisure. You are encouraged to join our suggested optional tours and activities that give you insights of Shanghai.
OPTIONAL ACTIVITIES
# SHANGHAI INSIGHT TOUR: This tour takes you to Lujiazui Financial & Trade zone, where the Jinmao Tower is located. Jinmao is with 88 stories reaching a height of 420.5 meters and 290,000 square meter construction area, it is literally means "Gold Luxuriance Building" in Chinese. In here, you can find the perfect combination of traditional Chinese architectural style and the world's modern architectural technology. After this, we will visit another famous site in Shanghai – Xi'tian'di. It is an historical and cultural character of the city tourism attraction, its unique Shikumen Shanghai-based urban construction attract people from the globe to explore this special leisure area.
# CHINESE ACROBATIC SHOW: This evening, treat yourself by seeing the amazing ERA The Intersection of Time acrobatic show.
DAY 11: TOUR ENDS – DEPART FOR HOME | MEALS: BREAKFAST
Your tour ends today with a transfer to the airport for your flight home or your onward journey.
DAY 12: ARRIVE HOME
Arrive Australia.
Please take the time to read and understand the conditions of booking set out below prior to booking a trip with us. We strongly recommend that you also read the essential trip information relating to your trip prior to booking to ensure that you understand the itinerary, style and physical demands of the trip you are undertaking.